2018 is witnessing some really weird news. This is one of the most bizzare news for the starting of 2018. Recently a 29 year old claimed that he was Aishwarya Rai Bachchan's son. He claims that he was born of Aishwary Rai Bachchan through IVF in London back in 1988.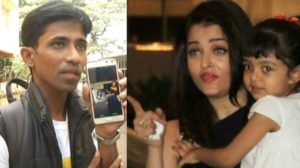 This youth is Sangeeth Kumar and is a resident of Andhra Pradesh. As per the reports by The Deccan Chronicle, the youth, surprisingly, also adds Rai in his name and has been continuously claiming that he is the actress' son.
His claims sound really weird and surprising because back in 1988, Aishwarya was just 14 years of age. He has come up with several allegations, and says that "his mother", Aishwarya Rai Bachchan has separated from her current husband Abhishek Bachchan and is living alone.
Therefore he says that he doesn't want her to live alone. Instead he wants her to come and live with him because he has been missing her. He says that he has been separated from his family since a very long time. Sangeeth has no proof of the claims that he has been making.
Sangeeth's Statements: Aishwarya Mother
In a conversation with media in Mangalore last week, the youth gave a list of statements. He stated, "I was born to her by IVF in London in 1988. I was brought up in Chandovaram deom age three to 27. I was with my Grandmother Brinda Krishnaraj Rai's family at the age of one and two in Mumbai.
My grandfather Krishnaraj Rai died in April 2017 (March), and my uncle's name is Aditya Rai." Since the youth mentioned his mother was living alone, he further went on to add, "I want my mom to come and live with me in Mangaluru. It's already 27 years since I separated from my family, I miss her a lot. I don't want to go to Visakhapatnam, at least I want my mother's number so that I'll be free."
However, he claimed he didn't come forward earlier because he was "manipulated" by his family members. He said that he had no clear information about his mother. His relatives had been manipulating things since his childhood and now he has started to get "enormous headache and anger" at his native place. Ultimately, he has gained all the clear information about his mother and wants to visit her.
He claims that after two years of being raised by Aishwarya's parents, he was moved to Vishakhapatnam by his father Aadivelu Reddy. He blames his relatives for destroying the documents which he could have given as proof to state that his claims were true.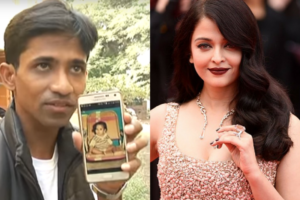 Aishwarya Rai Bachchan, blessed with beauty is media's favorite. She has taken everyone by surprise through her
acting. However, these claims by the youth are too much to handle and has landed Aishwarya into a controversy.
No one knows if Aishwarya is aware of these because she has been busy shooting for Rakeysh Omprakash Mehra's Fanney Khan, opposite Rajkummar Rao. Everyone is waiting for her to come up with her explanations. It will be interesting to see if at all these are true or not.
.