Shivam Singh, a musical prodigy, shares his remarkable journey from a young singer to Indian Idol. Starting at the age of 3 to setting a World Record, he also talks about how to pursue passion with dedication and honesty in a tete-a-tete with Readers Fusion.
Here are excerpts of the interview:
Q. When did you start singing and how has the journey been so far?
A. I began my journey as a singer at the tender age of 3, and since then, I have had the incredible opportunity to perform on numerous stages. It has been a privilege to showcase my talent at various venues, and I am truly grateful for the position I find myself in today.
One of the highlights of my musical career was participating in Indian Idol, which turned out to be a dream come true. Achieving a commendable 5th position in the competition was an indescribably beautiful feeling.
Thus far, my musical journey has been both rewarding and challenging, but every step of the way has been an enriching experience.
Q. You hold a world record through Faculty of Performing Arts in Baroda, tell us more about it?
A. The world record was set back in 2020 during the Covid times. Everyone was at home and during that time, I got a poem, titled, "Mat Nikal by Sharad Gupta" which defined the entire scenario. The lyrics were amazing,
शत्रु ये अदृश्य है,
विनाश इसका लक्ष्य है,
कर न भूल, तू जरा भी ना फिसल,
मत निकल, मत निकल, मत निकल।
The World Record was set because, the whole crew at The Faculty of Performing Arts in Baroda including the current and past teachers along with students did this gig that involved over 300 people from their own locations performed this song that had Kathak and Bharat Natyam as well over Facebook Live.
Q. What are some of funniest moments from Indian Idol 13?
A. I have had the incredible fortune of creating countless unforgettable memories during my time on Indian Idol and the UK Tour. These experiences have been filled with joyful and exciting activities, but there is one highlight that stands out above the rest: our bond with Chirag Kotwal.
Whenever Chirag is present, the song "Thukra ke Mera Pyaar" begins to play in the background, an atmosphere of pure enjoyment envelops us all. It has become Chirag's theme song, and he has truly made it his own.
Q. How has the Journey been from being "Papa Shivam" to "Cool Dude Shivam"?
A. It's a very interesting story, something to remember, it has all the flavours. I am little old school and follow a schedule to be on track. My friends presented in this in a different way which was fun. I have changed, adapted, and learned a lot of things during this journey of Indian Idol, and only Madhuri Dixit could have done this transformation.
"Whose better Papa Shivam or Cool Dude Shivam?"

– Himanshu Suri
I love a fusion of both Papa Shivam and Cool Shivam. By maintaining a balanced approach, we can navigate life's challenges with a calm and clear perspective, while staying true to our core values and principles. This harmonious blend allows us to lead fulfilling lives and make a positive impact on those around us.
Q. How do you manage your personal and professional life?
A. When it comes to managing my personal and professional life, I believe in embracing a natural approach. It starts with being authentic and true to myself in both realms. Whether I am on stage or off, maintaining a consistent and well-defined personality is key. This includes paying attention to my body language and understanding how it contributes to my presence as an artist.
By staying true to who I am personally, I can achieve a sense of balance between my personal and professional life. This means aligning my actions, values, and goals in both areas. When I bring the same level of dedication, passion, and authenticity to my personal life as I do to my professional endeavors, it creates a harmonious equilibrium.
Q. Who has been your biggest inspiration?
A. Drawing inspiration from various individuals, my journey has been shaped by the invaluable influence of several remarkable people. It all begins with my incredible parents, whose unwavering support and love have been my foundation throughout. Their belief in me has fueled my drive to pursue my passion for music.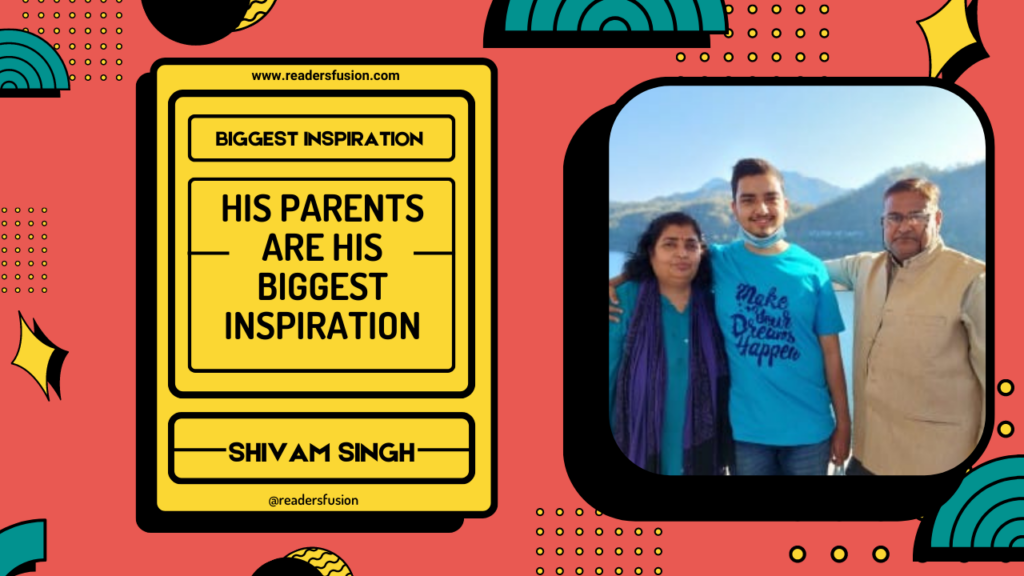 Furthermore, my revered Guruji, Dr. Rajesh Kelkar from Baroda, has played a pivotal role in my life. Under his guidance and tutelage in Indian Classical Music, I have grown both as an artist and as an individual. His wisdom, expertise, and dedication to the art form have been a constant source of inspiration.
In the realm of music, I find profound admiration for the legendary Jagjit Singh. His soul-stirring melodies and heartfelt expressions have deeply resonated with me, leaving an indelible imprint on my musical journey. Arijit Singh, Sukhwinder, and the incomparable Kishore Da are among the artists I greatly admire as well, with their exceptional talent and versatility.
Q. One advice that you would like to offer through Readers Fusion?
A. If there is one valuable piece of advice I could share through Readers Fusion, it would be to prioritize dedication and honesty when pursuing your passion. These two qualities form the bedrock of success.
Stay focused on your journey, follow your heart, and have faith that everything will fall into place when you stay true to yourself.