Most of the parents are familiar with flu symptoms. Usually these flu come with chills, fever, body aches, fatigue. But what if the flu come with hives symptoms? This mom from Nebraska noticed her son to be suffering from such a flu.
Hives Flu: Experience of Brodi Willard
A mom and a nurse from Nebraska, Brodi Willard noted that her son was suffering from unusual symptoms. Over the time he developed rashes and there was nothing that she could do to prevent it. The remedies did not work. On checking, it was found that the boy was suffering from Influenza after the test. This kind of flu was on quite rise last year and many people got affected by it.
It was due to the post by Brodi Willard that the people became more conscious or it. Brodi shared her experience back in January and it garnered a lot of attention. It is that time of the year and you never know if the flu with hives will attack again or not.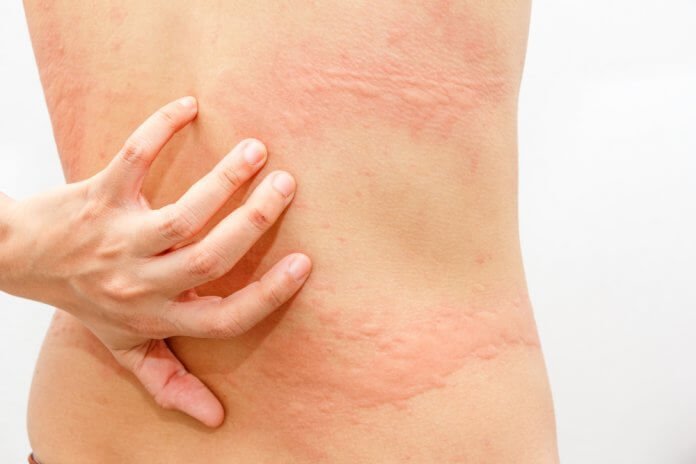 Hives Flu: Things you need to know about this flu
In this kind of flu, you usually won't notice any kind of particular symptoms like that of normal flu. You don't record could, fever and runny nose.
Usually, if your child suffers from rash during any flu, it is a warning sign that requires immediate attention. Hives usually don't show up during flys. But if they do, it is a warning about any infection flu and you should necessarily look out for it.
Hives Flu: View of the experts
The professor of preventive Medicine from Vanderbilt University School of medicine, Dr William Schaffner said that the case was very odd because the boy wasn't suffering from any normal flu symptoms. However, he further went on to share his experience and viewpoints with the other flu experts.
Talking of the experience, Dr Schaffner added, "We're all scratching our heads. We've never heard of it before, so I think the answer is a strong maybe. It certainly is unusual. Just a rash alone without any other symptoms… I wouldn't run right away with a diagnosis of influenza on the basis of this anecdote."
He further shared his experience and said there could be possibilities of the child being affected by Influenza without any virus and the hives were just coincidence.
He further added, "If you go out and test a lot of children without symptoms, you will find that (some) are carrying a respiratory virus, whether it's influenza or RSV or adenovirus or rhinovirus, but they're not sick. Children can do that. So one of the questions would be: Is this just a coincidence? It's certainly not in the text books."
However, he did show his concerns regarding it and said that parents should be focusing on getting their child treated. He further added that people should work towards treating hives as skin conditions and to treat it immediately.
However, if your child suffers from any normal flu like symptoms such as vomiting, fever then you should get him treated.
Serious Flu Symptoms in kids
Excessive or fast breathing
Appearance of blue coloured skin
Lacking the effect to drink fluid
Not interacting, being isolated
Constantly irritated by small symptoms
Gradually increasing flu symptoms
Slight rash will fever
Serious Flu Symptoms in Adults
Short breathing or breathing problems such as troubled ones
Excessive pain in the abdominal area
Too much of dizziness
Losing track of the said things
Confused behavior
Continual vomiting
Too much of flu symptoms which keep on increasing
Older people are at a higher risk
Most probably, the kids and the older people are at the higher risk of the flus. You should keep a check on both the kids and the adults regarding the flu symptoms. If you notice any of the symptoms, you should contact your doctor.
Especially, the middle-aged men and the older people are at the high risk of getting cardiac arrest and stroke just in a few weeks post the recovery from flu. As per Schaffner, these flu like symptoms can get deadly if not properly looked after. These heart related diseases happen due to the inflammatory diseases. This inflammatory response is caused in the body which can last for few time until the disease. The blood vessels and heart and brain can get involved with the inflammatory response. The response can get extensive and lead to death sometimes as per research. Most of the average people suffer from it and people usually don't have an idea about it. It is for this reason that you need to get the flu vaccine.
Talking about the preventive measures, Dr Schaffner added, "Every case of flu you can prevent also keeps your risk of heart attack and stroke lower."