The year is 2019. People are going about their lives. Offices, schools, public parks, markets all buzzing with people.
Cut to 2020 and suddenly the world comes to a screeching halt. The pandemic starts spreading like wildfire and Covid becomes the worst disaster to hit mankind since World War II.
People are locked up inside their homes and there is a flurry of DIY (Do It Yourself) videos on the internet. Right from tutorials related to cooking, haircut, makeup, coffee making, and even workout methods, the world was coming to terms with this new reality.
The Great Bicycle Comeback of 2020
As countries around the world slowly started coming out of the Covid lockdowns, there were some outright changes being observed all around.
Covid-19 brought about a major change in the public's health perspective. Anxious of avoiding travel in public transportation, and a greater awareness of physical wellbeing brought about a surge in the usage of bicycles as a medium of mobility.
The sales of cycles in 2020 are a testament to this fact. As per the All-India Bicycle Manufacturers Association (AICMA), the sale of bicycles had gone up by 100% in 2020, which was an unprecedented feat.
The Major Benefits of Regular Cycling
Increased cardiovascular fitness
Helps reduce stress level
Improves muscle strength and joint mobility
Helps control body fat levels
Improvement in body posture and coordination
Reduction in anxiety and depression.
With the wide plethora of information available on the internet, it can often be intimidating for a rider to choose the type of bicycle they want.
This article will help you decide on the type of bicycle you would need, and how to make it a happy experience for years to come!
Choosing a Bike: Types and Styles
One of the most daunting tasks of cycling is to select the bicycle itself.
The main broad categories of bicycles are:
Mountain Bike
Hybrid Bike
Road Bike
Mountain Bike:
Designed for off-roading.
These have flat handlebars
Normally heavier than road/hybrid bikes to make them more durable on tough terrain
Road Bike:
Designed for easier navigation on flat roads.
These have drop handlebars for multiple hand positions.
Narrow and slick tyres.
Hybrid Bike:
Use elements of both Mountain bikes and Road Bikes.
Generally, use narrow and slick tyres (from Road Bikes). Provide higher gearing functionalities (from Mountain Bikes).
Next Steps: Preparing for the Ride
Now that you have chosen the perfect bicycle, you chalk out the ride plan. However, ensure that you have pondered on the below important points:
Invest in cycling accessories:
Apart from that swanky, cool bicycle you selected for yourself, ensure you get the proper accessories to go with that as well. Helmet, blinker, bottle rack, cycle lock, knee guard, are the must-have cycling accessories. These help in ensuring safety of the rider.
For additional comfort, we would suggest opting for padded shorts. You can also choose to install a cushion seat which would ensure you can cover longer distances, without having to worry about that ache on your rear side!
Stretching:
Before hopping on that bicycle, do some light stretches. It is very important to get the blood flowing in those calves, hamstrings, and back muscles. This not only ensures longevity of the ride, but also avoids sore muscles the next day.
Similarly, after your ride, ensure to stretch those hamstrings, back muscles, neck muscles and calves. This ensures you keep burning those calories throughout the day, and at the same time recover in time for that next cycling session!
Stay hydrated:
Whether it is summers/monsoons/winters, it is extremely important to stay hydrated during your ride. This helps replenish the water you lose through sweat, keeps you focused, and improves stamina. Hydration while you cycle should change depending on the length of your ride.
Stay alert and inform others
If you are riding alone, it is always beneficial to stick a note or card in your shorts/t-shirt/pockets, which would have important details like your home address, blood group type, SOS contact details etc. This comes in handy in case of any mishap or unfortunate circumstances.
Track your progress:
Mobile applications like Strava, CycleStreets, Map My Ride (to name a few) are immensely helpful in analyzing your progress as a rider.
You can check distance covered, calories burnt, average speed, route's analysis, and other such key metrics to monitor you progress and get clarity on how to improve further.
And there you go! With all this information we put together, you are good to go on your bicycling journey.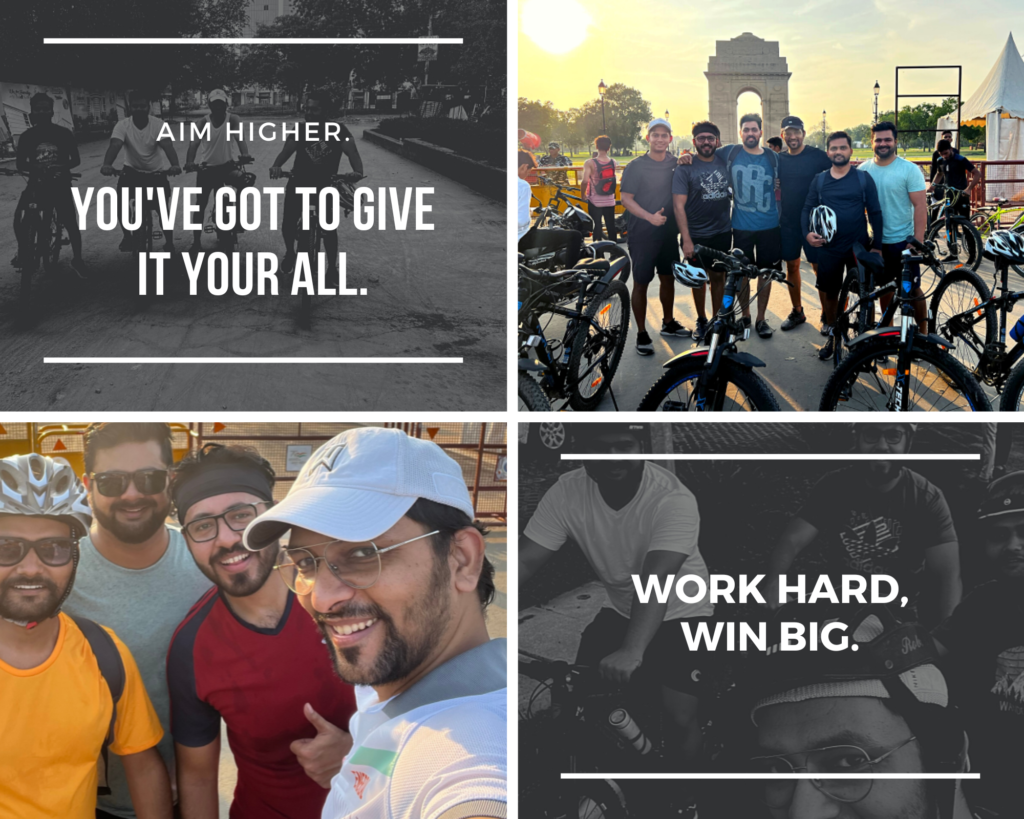 If you still have any additional questions, please do drop in your email to us at email@readersfusion.com
STAY HEALTHY, RIDE SAFE!