The ending of Stranger Things Season 4 clearly revealed that Eleven and her friends were able to stop Vecna, but by the time they succeeded in their actions, their friend Max was dead, and Hawkins was in flames. Eleven manages to bring back Max (not completely; she is in a coma), but Hawkins is hit by a massive earthquake that causes fissures on the ground of the entire town. Plumes from within the Upside Down rose and settled in the form of ash across Hawkins. 
The audience is now looking forward to what the makers have to offer in Season 5, especially since this will be the final season for this incredible science fiction horror drama series.
Stranger Things Season 5 in the Making
Writers and series creators of Stranger Things, Ross and Matt Duffer, revealed that they began working on Season 5 on August 2, 2022, which was almost a month when Volume 2 or Season 4 had premiered. The two have since generously shared updates about the upcoming season with their fans.
The writers also said that they have written a 25-page description of the Upside Down, and while much of it was revealed in Season 4, there is a lot more that will be discovered about this place in Season 5.
"The last remaining questions that are answered in that document, we've punted a couple of those to have some big reveals in Season 5, and that's really going to affect what Season 5 is about," revealed Ross Duffer in one of his interviews in June 2022.
What Lies ahead in Stranger Things Season 5?
The makers have already revealed that Season 5 will comprise 8 episodes, and the concluding episode will be of 2.5 hours.
They have shared a picture of the name of the first episode on Twitter, which reads as below:
Stranger Things 5
Episode #501
"Chapter One: The Crawl"
By
The Duffer Brothers
Another tweet also revealed how the first scene would begin. It reads as below:
Season 5. Chapter 1. Scene 1
Darkness
The sound of COLD WIND. GROANING TREES. And…
A CHILD'S VOICE. Singing a familiar song:
Director of the series, Shawn Levy, revealed that Season 5 would be "epic and very emotional."
Season 5. Chapter 1. Scene 1. pic.twitter.com/TIkf1DNipu

— stranger writers (@strangerwriters) November 7, 2023
When Will Stranger Things Season 5 Release?
As we remember, it took the makers around two years to create Season 4, which was released in two parts. However, the pandemic was also to be blamed partially for the delay.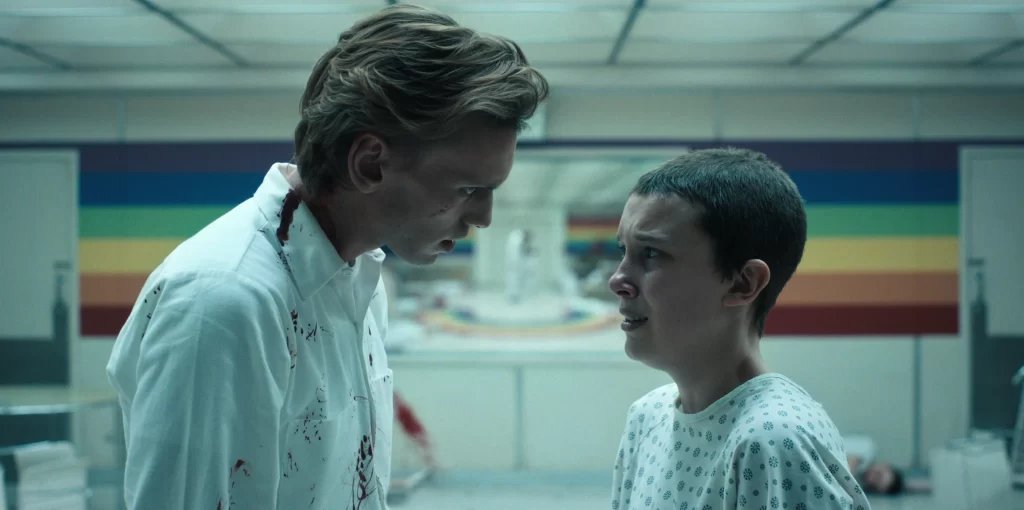 While the crew did have hopes that Season 5 would be made available to the audience sometime during 2024, it may not be entirely possible because of the Writer's Guild of America's strike that happened in May. The Duffer brothers announced through the official Twitter account of the show that they would be halting production in support of the WGA and the writers, further delaying the release of season 5.
Meanwhile, you can enjoy the previous seasons of Stranger Things on Netflix if you want to go through the story once again.