The story revolves around a love triangle between Sai, Virat and Pakhi.
Virat is an aspiring IPS officer for whom his duty towards the nation comes foremost everything. He hails from a rich family. He gets his first posting in Gadchiroli.
While on a  trip to Yoga Center, Virat meets Pakhi and they both fell in love with each other. As Virat leaves for his duty to Gadchiroli, they both exchange their numbers and Virat promises to call her. Virat then could not connect with Pakhi as he losts her number due to phone damage. Even Pakhi struggled to connect to Virat but with all failed attempts. Pakhi feels Virat has cheated and betrayed her.  She accepts marriage proposal of Samrat, being unaware of the fact that he is Virat's cousin.
Ghum Hai Kisi Ke Pyar Mein Written Update
During the marriage ceremony, Pakhi meets Virat and begs him to marry her. Virat refuses as he cannot cheat upon his cousin. She takes promise from Virat that he won't allow any other woman to enter his life. She then marries Samrat in order to stay closer to Virat as they both live in the same house.
Sai is the daughter of Kamal, the trainer of Virat in Gadchiroli.  Sai is studious , intelligent and academically a brilliant medical student.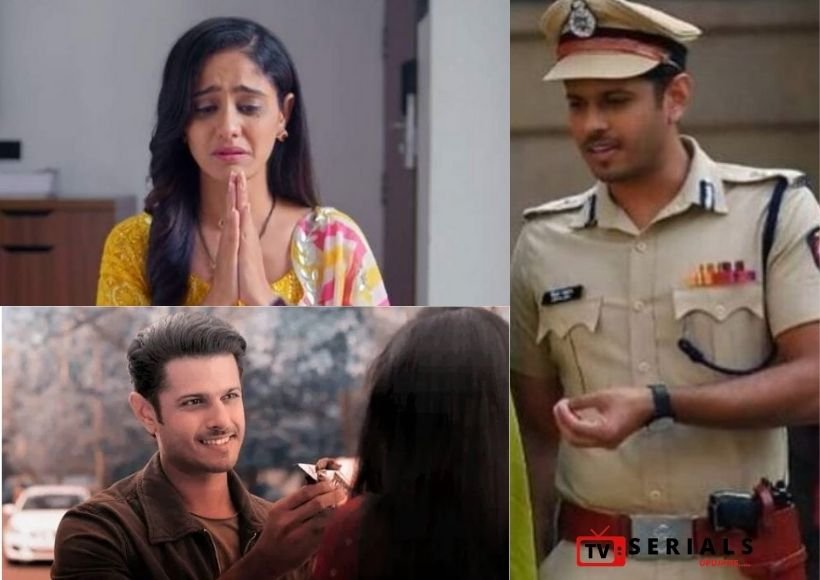 In an incident, Kamal gets shot by a local goon Jagtap in order to save Virat. Virat promises Kamal that he will take care of Sai. Sai, on the other hand gets shattered and tries to kills herself. Virat saves her and marries her but he also tells Sai about her love, Pakhi. Sai also agrees to marry him and accepts that there will be no husband-wife relation between them and she will leave once she becomes a doctor. Here, Virat chooses his promise and duty over his love.
Gradually, post their marriage, Virat develops feelings for Sai and realized that he never loved Pakhi, it was mere infatuation. Virat many times tries to express and communicate her deep love to Sai. Virat and Sai, on a romantic night come closer to each other which is further interrupted by Pakhi. Feeling betrayed, she yells at Virat and expresses her love towards him. Sai listens to their conversation and Virat later tries to remove all the misunderstandings between him and Sai.
Though Sai develops feeling for Virat but her belief that Virat still loves Pakhi, keeps her confuse about her feelings towards him. On Sai's birthday, Virat gifts her a ring as a step forward for their relation. Sai refuses to accept it and asks if its just a birthday gift or something else. Virat lies that its just a birthday gift and nothing else so that Sai could accept it. Though, Virat communicates that if she ever removes this ring or return it to him, their relationship will end.
Few days later, Sai did not attend the college as she was not keeping well. Her friend, Ajinkya, came to give her the notes. Pakhi deliberately insisted him to meet Sai in her bedroom. Though with hesitation, Ajinkya meets Sai in her bedroom. Pakhi uses this opportunity to create doubt in mind of Virat against relationship between Ajinkya and Sai.
Virat gets angry and questions on Sai's character. Sai gets extremely hurt and leaves the house. While on the way, she meets an accident with serious injuries. Virat blames himself for Pakhi's condition and regrets doubting her. Sai still being unconscious is in critical condition. Later, Ninad clears that it was Pakhi who deliberately sent Ajinkya to Sai's bedroom and they are just friends.
Ghum Hai Kisi Ke Pyar Mein Cast with Real Names
| | | |
| --- | --- | --- |
| Character | Role | Real Name |
| Virat Chavan | IPS officer (Lead) | Neil Bhatt |
| Pakhi Patil (Patralekha) | Virat's love/Samrat's wife | Aishwarya Sharma |
| Sai Joshi | Virat's wife | Ayesha Singh |
| Samrat | Virat's cousin | Yogendra Singh |
| Bhavani | Virat's aunt | Kishori Shahane |
| Devyani Chavan | Bhavani's daughter | Mitaali Nag |
| Mohit Chavan | Virat's cousin | Adish Vaidya |
| Karishma | Mohit's wife | Sneha Bhawsar |
| Omkar Chavan | Virat's uncle | Mridul Kumar |
| Sonali | Omkar's wife | Sheetal Maulik |
| Kamal Joshi | Sai's father | Sanjay Narvekar |
| Ninad Chavan | Virat's father | Shailesh Datar  |
| Pulkit Deshpande | Sai's brother-in-law and professor | Yash Pandit |
| Devyani | Pulkit's wife | Mitali Nag |
| Ajinkya Mhatre | Sai's best friend | Somesh Sharma |
| Jagtap Mane | Local goon | Siddharth Bodke |