Never Have I Ever Season 4 is coming up, also the last one in the series. It is an American, coming-of-age series. Created by Mindy Kaling and Lang Fisher, it is a television comedy-drama series. Never Have I Ever has been an appreciable representation of Tamil and South India, breaking lifelong stereotypes about them internationally. Today, we will tell you about Never Have I Ever Season 4 Plot, Cast Details and Release Date!
How many seasons are there of "Never Have I Ever"?
The show premiered on 27th April 2020 on Netflix and instantly got love and appreciation from the audience which led to its renewal for the next season on the 1st of July 2020. The second season came out on 15th July 2021, followed by the Third season on 12th August 2022.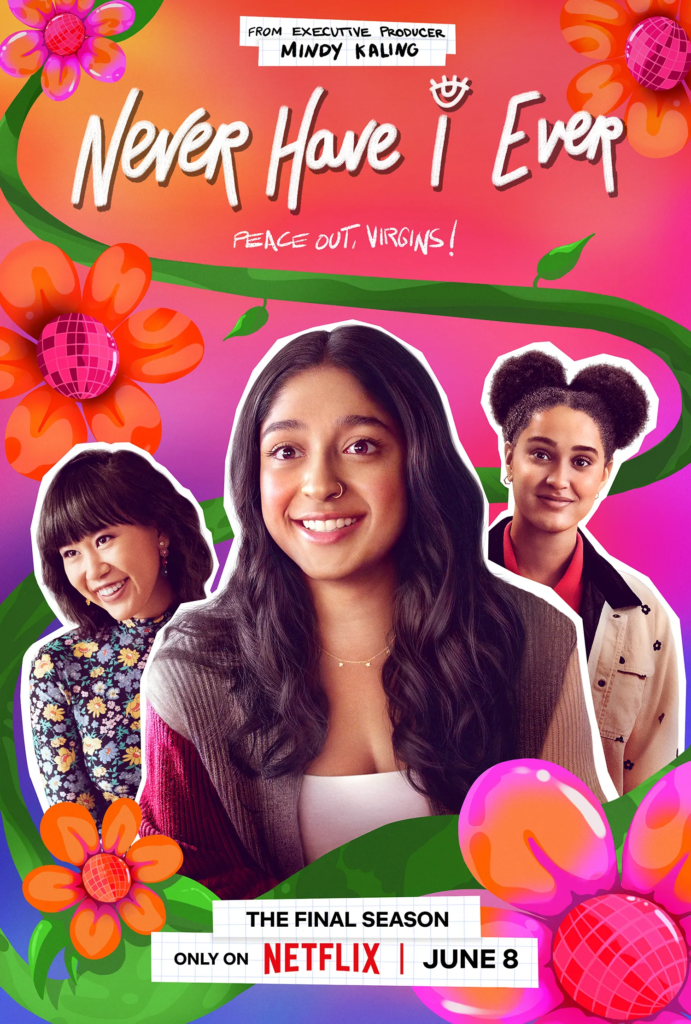 "Never Have I Ever Season 4" Plot
The story is about an Indian-American girl, Devi Vishwakumar, who is a high school student and has been dealing with the loss of her father due to his sudden death. The emotional trauma hits Devi so badly that she loses sensation in her legs. And after a couple of months, she suddenly gains the sensation as she tries to see her crush Paxton Hall – Yoshida. Devi and her friends have their fair share of challenges throughout the show.
So far the show has covered all the points related to teenage drama in today's time, relationship issues with partners, parents and friends, Peer pressure along with Devi dealing with her grief.
The show is reportedly based on Mindy Kaling's childhood experiences as an Indian in the USA.
Has a trailer been released for Never Have I Ever Season 4?
"Never Have I Ever Season 4" Cast
Maitreyi Ramakrishnan plays Devi Vishwakumar, initially a 15-year-old high schooler whose character is based on Mindy Kaling. Her character is an ambitious girl who is always caught between her Indian heritage and her desire to belong in the American environment, specifically in her high school.
Poorna Jagannathan plays Devis's mother, Dr Nalini Vishwakumar, a dermatologist. She has a strained relationship with her character's daughter.
Kamala Nandiwadal's character is played by Richa Moorjani. She is Devi's cousin on the show, who is staying with Devi's family.
Darren Barnet plays Paxton Hall-Yoshida. His character is one of the most popular kids from school, who later becomes a love interest for Devi.
Benjamin (Ben) Gross is played by Jaren Lewison. He is Devi's nemesis at school and later is a good friend to Devi.
John McEnroe is playing himself on the show and is also the narrator of the series.
Since the show is a teenage drama, capturing their moments from high school there are many more characters on the show, such as Eleanor Wong, Fabiola Torres and Ethan.
Other than them there are multiple recurring characters on the show as well, which includes Aneesa Qureshi, Mohan Vishwakumar, Dr. Jamie Ryan, Eddie Liu and many more.
What To Expect in "Never Have I Ever" Season 4
In the previous seasons, the show has beautifully given a representation of Indian American culture and the struggles of an immigrant as well. It showcases the clash between traditional Indian values and Western ideals. Hopefully, more stereotypes will be broken in the coming season and the world will have more to learn from the Final Season.
The fourth season is expected to delve deeper into the character's personal growth and matured relationships. Devi herself is expected to have more control over the balance of Indian heritage and American upbringing. The characters will tackle fresh challenges and will prepare for life beyond high school. Maybe the characters have a more diversified perspective towards life as they approach adulthood. The show is also expected to take up more social issues in its coming season, as it has done in the past.
"Never Have I Ever Season 4 " Release Date
Recently Netflix announced that "Never Have I Ever" will have its fourth season as the final season. "Never Have I Ever" Season four will premiere on the 8th of June 2023. Announcement about the show's ending has been saddening for millions of fans of the show. Each season so far has had ten episodes.
What We Have To Say About The Show
Never Have I Ever Review from our end is that the show has been popular due to its fresh approach towards South India, breaking stereotypes, and a unique blend of humour and relatability. But the thing which helped the audience build its connection was warm storytelling.
The show has had a sweet approach to the emotions of a teenager. It is visible through the characters' path of self-discovery, acceptance of life situations, pursuance of happiness. The fans of the show expect more drama, emotions, compassion, fights and crazy adventures in their upcoming Never Have I Ever Season 4.
The fans are super excited as the Never Have I Ever Season 4 Release Date is approaching, but at the same time, they are extremely sad to see an amazing series like this coming to an end so soon.