If you spent your childhood wondering why Michael Kelso is so slow while Eric Forman pretended to be cool in front of his buddies, we have some good news for you. You are aware of the show we are referring to by this point, it is That 70s Show. To everyone's surprise, the cast of the original series is coming back together for the spinoff, That '90s Show, which will air on Netflix.
For fans of the original sitcom, which featured Topher Grace, Laura Prepon, Ashton Kutcher, Mila Kunis, Wilmer Valderrama, and others, this is undoubtedly amazing news.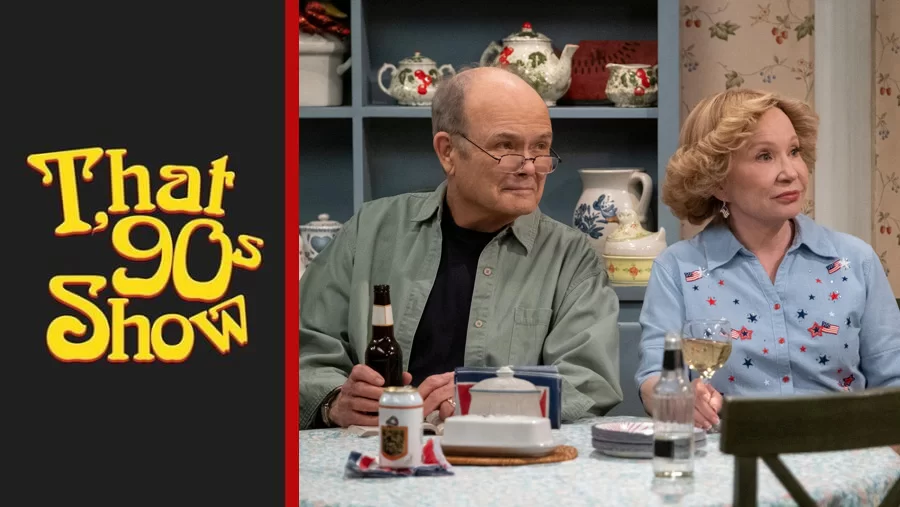 Release Date of That '90s Show
On 19 January 2023, That 90's show will be available on Netflix for everyone. This marks Netflix's first major new TV show in 2023.
Since nothing to the contrary has been revealed, we may anticipate that on January 19, all 10 episodes of That '90s Show will be immediately available for you to watch at your own pace.
The Plot of That '90s Show
The focus of That '70s Show was on Eric Forman and his buddies and how Red, Eric's father, was irritated by them. That '90s Show, however, features a younger generation tackling issues. The That '90s Show official plot summary is as follows:
Leia Forman, the daughter of Eric and Donna, spends the summer of 1995 at her grandparent's house where she makes friends with a new group of Point Place kids while being watched over by Kitty and Red.
Trailer of That '90s Show
The first teaser trailer of "That '90s Show" features Red and Kitty breaking their own no-dancing rule while Leia and her friends simply react with "whoa" to drugs.
It's also important to note that the upcoming season will contain an updated version of the rock anthem theme song from the first season, "In the Street," with a deliciously '90s arrangement involving James Iha of the Smashing Pumpkins and Brett Anderson of The Donnas.
The Cast of That '90s Show
Red and Kitty from That '70s Show, Kurtwood Smith, and Debra Jo Rupp were the first cast members for the spinoff to be revealed. According to rumors, they would play Red and Kitty again in the spinoff.
Along with five other young performers, the actress who will play Eric and Donna's (Topher Grace and Laura Prepon) daughter was revealed on February 3.
List of regular cast members:
Debra Jo Rupp as Kitty Forman
Kurtwood Smith as Red Forman
Callie Haverda as Leia Forman
Ashley Aufderheide as Gwen
Mace Coronel as Jay
Maxwell Acee Donovan as Nate
Reyn Doi as Ozzie
Sam Morelos as Nikki
List of special guests:
Topher Grace as Eric Forman
Laura Prepon as Donna Pinciotti
Mila Kunis as Jackie Burkhart
Ashton Kutcher as Michael Kelso
Wilmer Valderrama as Fez
Tommy Chong as Leo