The famous pod season is back with 30 new wackiest contestants streaming exclusively on Netflix. The new cast of the show is full of hopes and surprises. Well! No singles are returning to experience love again. The new group is sure to entertain every bit of you.
Platform: Netflix
Creator: Chris Coelen
Executive Producers: Chris Coelen, Ally Simpson, Brent Gauches
Here, we have compiled a list of all singles of Love Is blind Season 2. Keep scrolling.
Abhishek Shake
A veterinarian by profession, 33-year old Abhishek's journey will make the viewers stick to the show. An Instagram bio of Shake describes him as a person helping humans achieve self-love and success.
Brandon
He is 36, and an insurance broker by trade. However, he is a fitness freak, and his abs are something upon which anyone can get mad. Maybe Brandon can get succeed in piquing your interest!
Aja
Aja (28 years old) is a paralegal, and She is hopeful and optimistic about the show that She can find true love here.
Chassidy
Chassidy, 34, works as a makeup artist, hairstylist, and image consultant owing "Your Matters LLC". In the introduction, she disclosed that she suffers from sinuses and that's not the most attractive thing. There is only hope for Chassidy finding love this season.
Caitlin
Caitlin, 31, loves a dog and owns one named Duke. She is in medical software sales and quite uncertain about Dating.
Brian
Brian, 32, is an advertising strategist and a jolly person. He describes himself as a loud person.
Danielle
Danielle, 29, is an associate director in the marketing. She is quite terrified about connecting on pods and finding love. But, she said, whom to blame? It was totally her choice to come in Love Is Blind season 2.
Deepti
Deepti, 31, is an information Data Analyst by profession. She is nervous about connecting pods and getting vulnerable at the same time live.
Hope
Hope, 32, is a sales manager and wants someone who loudly accepts her, whether it's traveling, going to restaurants, or going on a new adventure.
Haseeb
Haseeb, 28, is a lawyer and his biggest fear lies in getting hurt at the Love Is Blind.
Iyanna
Iyanna is the youngest cast member this season, flaunting only 27-years old. She is a program coordinator and ready to make a big impact on the show.
James Joey
Joey, 30, is a business strategy consultant and an intrepid person. He is eagerly waiting for the show's finale and meeting his love for the first time in a person.
Jarrette
Jarette, 32, the podcast host, is optimistic about the future and wants his future wife to be attracted to her personality.
Jason
Jason, 31, he works as a flight attendant on United Airlines and loves cleanliness. In an Instagram post, he teased this year is going to be quite interesting, and no matter what, he will always be with his love of life, independent of any situation.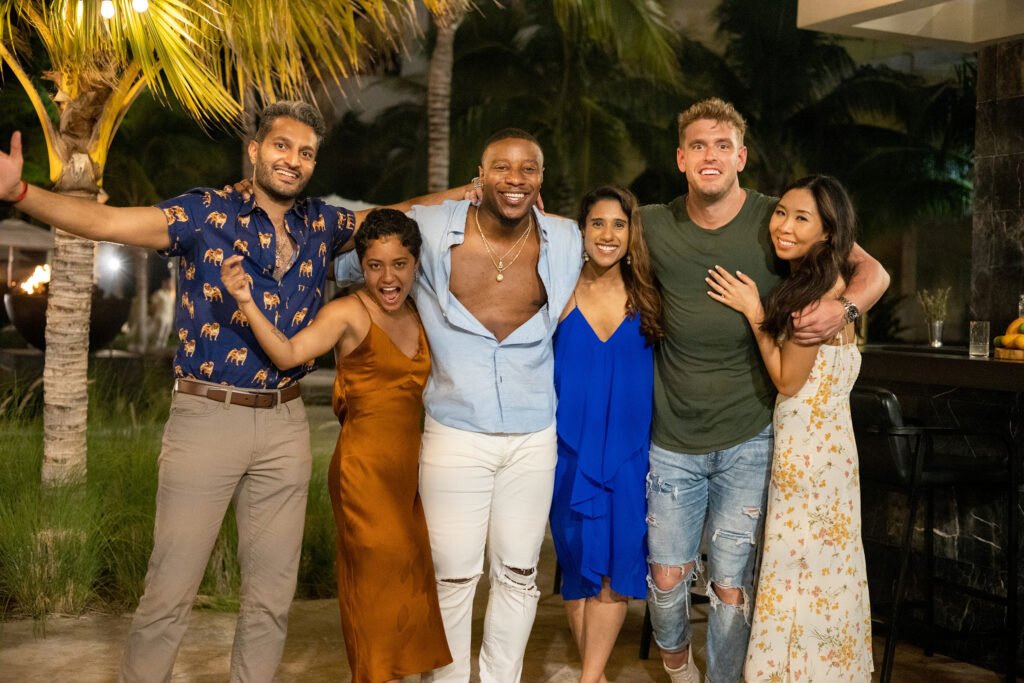 Juhie
Juhie, 31, is a clinical therapist. She summed up her perfect match and would love to drive with the person who is kind and down to any adventure with her. 
Jeremy
Jeremy, 36, is a director and entrepreneur. In the introduction, when asked about entering in the show," He said, he loves the style of the show because he doesn't have to focus on what to do, instead, he has to be himself.
Julius
Julius, 39, is a logistic manager and is excited about the show. He added in his introduction that he wanted to figure out if something would brew up in his love life in the show, how far we too could go!
Kara
Kara, 32, is a client service manager by profession. Her love life was not fruitful in the past, so she built walls. She either does not let people enter her life or openly welcomes everyone.
Kyle
Kyle, 29, is a Glazier by profession. He is open to a partner who can make him laugh and is cheerful.
Mallory
Mallory, 32, is a communication manager, and her involvement in the show could spice up the drama.
Natalie
29, Natalie is a consulting manager and the funniest cast member in the show. She loudly says her love of life needs to know. She has Irritable Bowel Syndrome.
Olivia
Olivia, 29, is a recruitment partner and doesn't like washing dishes. She stated, "I don't like doing the dishes, so my future partner might have to take that over for me." Or maybe just buy a dishwasher?
Nick
36, Nick is a VP of product marketing and wants to get rid of all distractions and wants to be personally involved with the person he is getting to engage.
Rocky
Rocky, 31, is an executive and says he has immense love to give and his love goes deeper.
Salvador
Salvador, 31, is an executive assistant and on a mission to find a best friend with whom he can share everything.
Shaina
Shaina, 32, is a freelance hairstylist and is excited about the show as she wanted a soul connection that is independent of physical appearance.
Trisha
30 year-old Trisha is a real estate broker and would love to experience a new change in her life.
Shayne
Shayne, 32, a real estate broker, says in an introduction that he might learn more interesting facts about himself during the show.
Shea'na
36 years old Shea'na is an event partnership director. She has an interesting personality and won eight National Championships and 17 All-American Awards during her four years at Carthage College.
Vito
Vito, 33, owns a pizzeria, and being a restaurant owner, his biggest pet peeve is when someone gets rude to a waiter.
Hope this time contestant get their true love in the show.
Watch the Love Is Blind Season 2 show streaming exclusively on Netflix!