If a huge list of new releases seems a little overwhelming for you, we've compiled our pick of the seven most eagerly awaited movies and series that will be available on Netflix in February 2023. Check them out,
True Spirit
Releasing on Netflix: February 3rd
The film portrays the true story of Jessica Watson, a driven young lady who set out to shatter records by sailing solo, non-stop, and unsupported around the world. This genuine story has previously been turned into a novel.
True Spirit stars Cliff Curtis and Anna Paquin.
Your Place or Mine
Releasing on Netflix: February 10th
This year, Netflix's Valentine's Day programming is primarily focused on television, but it does include a number of films, including the Reese Witherspoon and Ashton Kutcher rom-com Your Place or Mine.
Cast: Reese Witherspoon, Ashton Kutcher, Jesse Williams, Zoë Chao, Wesley Kimmel, Tig Notaro, Steve Zahn
Your Place or Mine is the story of two long-distance best friends. Reese Witherspoon decides to pursue a long-time goal and Ashton Kutcher offers to watch over her teenage son, and this changes each other's lives.
Unlocked
Releasing on Netflix: February 17th
With the release of its significant new sci-fi film JUNG_E at the beginning of the year, Netflix wants to continue the momentum initiated by Korean films in February 2023 with Unlocked.
The movie features an ordinary woman whose life is threatened after losing her phone which contained all of her personal information. Unlocked comes with a technological twist like Black Mirror, which makes it worth a watch.
We Have a Ghost
Releasing on Netflix: February 24th
We Have a Ghost is a film from the creator of Freaky (2020) and Happy Death Day 2U (2019). The film is based on the short story by Geoff Manugh.
The family comedy explores what happens after a family unearths a ghost in their home and becomes quickly renowned. The ghost is portrayed by David Harbour, Anthony Mackie, and Jennifer Coolidge.
Cast: David Harbour, Jahi Di'Allo Winston, Anthony Mackie
Early trailers and pictures do indicate that we're in for a silly, enjoyable adventure, but we'll have to wait until February 24th to find out what critics and, more importantly, audiences think.
You Season 4 Part 1
Releasing on Netflix: February 9th
It will be exciting to see Joe Goldberg (Penn Badgley) in London, don't you think?
The former New York killer brings his dubious skills to Europe, where he will pose as a professor, keep eyes on his librarian crush (Tati Gabrielle), receive texts from a stalker, and hang out with rich jerks.
You can remove the guy from Gossip Girl, but you can't remove Gossip Girl from the man. You season 4 is broken into two parts, part one will release on February 9th and Part 2 will release on March 9.
All about the Season 4 cast and plot details here.
Full Swing
Releasing on Netflix: February 15th
Full Swing, a documentary-style inside look at the world of professional golf, is produced by the team behind Formula 1: Drive to Survive and the upcoming tennis series Break Point.
Full Swing shows details of the PGA Tour, which recently experienced its most erratic year possible ever.
Saudi-backed LIV Golf tour started luring players away with wads of cash, causing a rift between those who wanted to uphold the PGA's legacy and those who were okay with being bribed by the controversial Saudi government.
Three of the most recent major event champions, Justin Thomas, Scottie Scheffler, and Matt Fitzpatrick, as well as the outspoken and pro-PGA Rory McIlroy, are featured in the Netflix series.
Outer Banks Season 3
Releasing on Netflix: February 23rd
The Outer Banks is now more of a state of mind than it is a physical location. In Season 3 of Outer Banks, the action is transported to the Caribbean and beyond as the Pogues are dragged into a dangerous search for a forgotten city.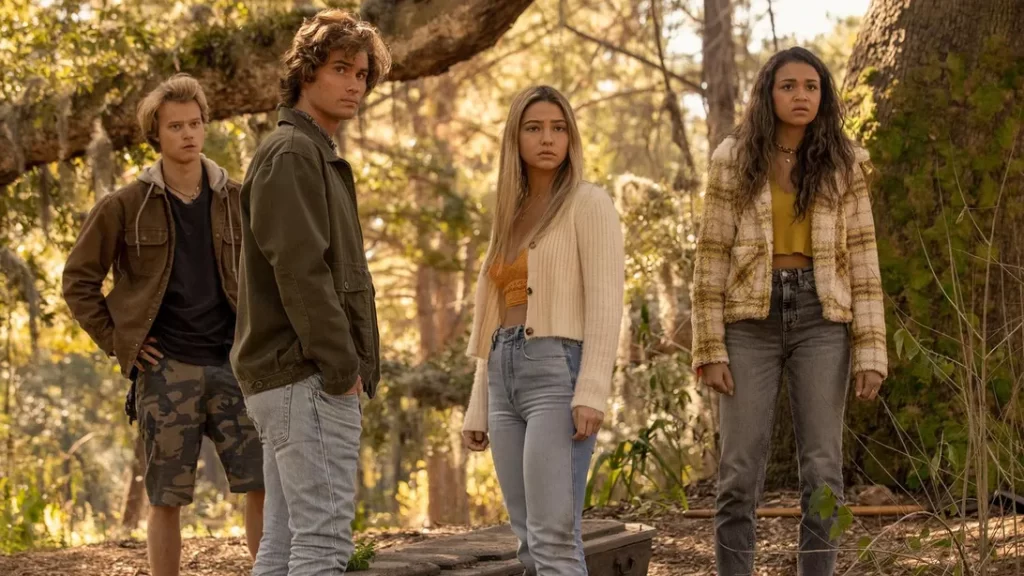 We're pleased that we won't have to wait until this summer to find out what happens after Season 2 of Outer Banks, which ended with that shocking revelation regarding John B.'s (Chase Stokes) family.