Bono & The Edge: A Sort of Homecoming with Dave Letterman is an upcoming film about Ireland's most beloved rock musicians who find their way back to the new sound. The documentary has been scheduled for release on St. Patrick's Day, March 17, 2023, on Disney+ Hotstar. The movie will be released along with U2's upcoming album "Songs of Surrender" – a collection of 40 most famous songs that have been re-imagined and re-recorded.
Bono & The Edge: Partially Movie and Part Concert
The movie has been created under the direction of Academy award-winner and filmmaker Morgan Neville and follows the American television host David Letterman's visit to Dublin to meet the legendary Bono and The Edge. The movie will be partly a travel film and partly feature musical concerts. Together with Bono and Edge, Letterman explores the beautiful city of Dublin and exhibits the music they have created together in 45 years of their career.
Watch the Trailer for Bono & The Edge
Disney has released a trailer for the audience where we can witness the vital flavors of Dublin, described in voiceover by Bono. It portrays how both music and storytelling are essential to the city's identity. The documentary has been made by Brian Grazer and Ron Howard's Imagine Documentaries, Dave Letterman's Worldwide Pants, and Neville's Tremolo Productions. You can watch the trailer on YouTube.
Bono & The Edge: A Legendary Friendship
U2's lead guitarist, The Edge, and the lead vocalist of the same group Bono have had a close friendship for over 45 years. The movie documents Dublin through the eyes of Letterman as he experiences the home of these artists for the first time. Letterman had previously met with Bono and The Edge just once in the US, several years back.
Disney is Releasing One of the Most Influential Acts in the Rock and Roll History
Ayo Davis, the President of Disney Branded Television, said, "Bono and The Edge are the force behind one of the most prolific and influential acts in the history of rock and roll, and we are honored to bring this truly intimate look at their beginnings, friendship, and creative process to a global audience on Disney+".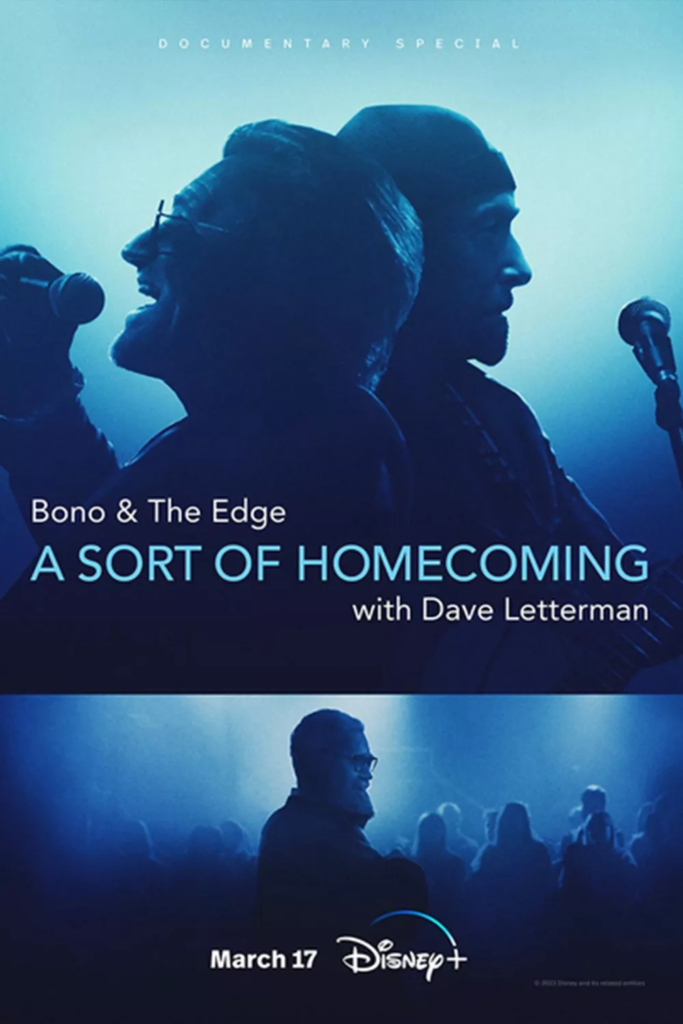 Letterman was really excited about this tour and revealed, "recently, I won a radio contest. Winner gets to visit Dublin with Bono and The Edge (radio contest part not true, but I feel like a winner). They showed me around, introduced me to their musician friends, and performed some of their greatest songs in a small theatre. It's a great tour. Get in touch with them – I'm told there are still availabilities. I'm the luckiest man on the planet."
The album "Songs of Surrender" will be released on the same day when Bono & The Edge: A Sort of Homecoming with Dave Letterman is set to release – on March 17, 2023.