America's most entertaining television reality competition Big Brother is back for Season 25, and here is a gist of what happened in the first two episodes of this season.
Big Brother Season 25 Episode 1 Highlights 
The show is being hosted by Julie Chen Moonves, and the house guests will be competing with each other for a grand cash prize of $750,000.
Introduction of the House Guests
The guests introduced to the house of Big Brother are:
America Lopez
Blue Kim
Bowie Jane Ball
Cameron Hardin
Cirie Fields
Cory Wurtenberger
Felicia Cannon
Hisam Goueli
Izzy Gleicher
Jag Bains
Jared Fields
Kirsten Elwin
Matt Klotz
Mecole Hayes
Red Utley
Reilly Smedley
Luke Valentine
Introductions were completed, rules were explained to everyone, and hostess Julie mentioned that the stay in Big Brother's house would be for 100 days this season.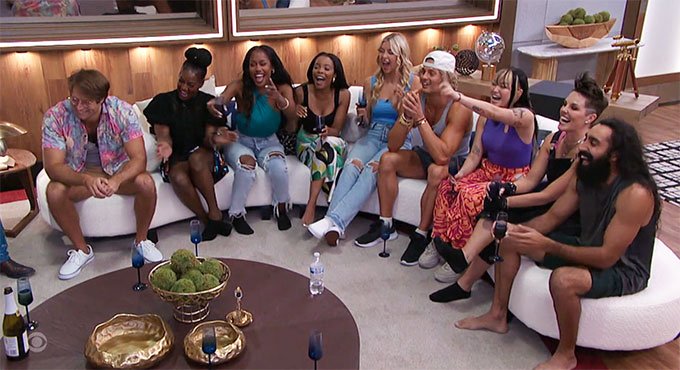 *Luke Valentine was expelled from the house on Day 8.
Multiverse Twist Explained
In this season of the reality TV show, a unique twist has been introduced by the makers. The game now revolves around the concept of four distinct universes – the comic-verse, humili-verse, scary-verse, and scramble-verse. As the season progresses, the house guests will become acquainted with these different universes and the challenges they bring.
House Guests Competed for Safety
When the house guests were in the backyard, they had to participate in four different competitions. The people who lost the four competitions would have to face elimination. Four competitions were theme based, as mentioned above. Jared Fields, Kirsten Elwin, Felicia, and Cory lost the competitions and were automatically nominated for elimination. The guests walk back to the house for a surprise where Cirie, a 'Survivor' participant, was present to greet them.
Big Brother Season 25 Episode 2 Highlights
The second episode opened with guests enjoying Champagne with Cirie. However, a house guest, Izzy, knows and reveals a secret that Jared (also a house guest) is Cirie's son. She doesn't let the other guests know about their secret, instead keeps it between her and Cirie.
Cory is returning from the Nether-Region, and he has a message for all. "Cory was pulled into the Nether Region. Lucky for him, it was for a short time. Unfortunately, next week one of you won't be so lucky." 
Head of Household
The house guests had their first Household competition, and the nominees had to sit out of it. The game required them to race across a balance beam, and the one who does it in the shortest time wins the game and becomes the HOH. The person will hold the power to remove 2 nominees from the block. Reilly wins the game and is the first Head of Household.
Nomination Ceremony
Since Reilly is the HOH, she decides to save Jared and Cory while Kristen and Felicia remain on the block.
You can watch Big Brother Season 25 episodes every Wednesday at 8 pm and Thursday 9 pm.