The reality TV competition, American Idol's current season is hosted by Emmy Award winner Ryan Seacrest, marking its sixth season on ABC and 21st season overall. The superstar judging panel, consisting of Luke Bryan, Katy Perry, and Lionel Richie are ready to provide invaluable insights and mentorship to the contestants, guiding them through the grueling audition process and intense competition.
American Idol 2023's eighth episode of the season saw the talented contestants of the Duet Round take the stage and try to impress the judges with their unique vocal blends. With their individual talents, the judges injected a mix of humor, candor and heart into each performance. From soulful ballads to upbeat pop tunes, the singers mesmerized the audience with their impressive vocal range and powerful harmonies. Lets have a look.
Elijah McCormick and Lucy Love
The highly anticipated team-up of Elijah McCormick and Lucy Love did not disappoint, as their jazzy rendition of The Temptations' classic hit "My Girl" was nothing short of magical. The performance allowed both singers to shine individually, while also delivering a stunning blend of their voices in perfect harmony.
Matt Wilson and Elise Kristine
Matt Wilson's silky-smooth, R&B-influenced vocals seamlessly melded with Elise Kristine's folksy tone, producing a commendable but not flawless rendition of Calum Scott's "You Are the One." The performance was noteworthy for its ability to balance powerful and soft moments, highlighting the impressive range and versatility of both singers.
Hannah Nicolaisen and Warren Peay
Hannah Nicolaisen and Warren Peay deliver an intimate rendition of "It's Your Love," earning praise from the judges who nod and smile throughout. Both singers advance to the next round. Zachariah Smith and Isaac Brown struggle with rehearsals, but despite frustrations and difficulty with the lyrics, they take the stage and make up their own words while dancing around.
Jon Wayne Hatfield and Preston Duffee
Jon Wayne Hatfield and Preston Duffee took to the stage and performed "Buy Dirt,". Despite their laid-back approach and struggles with harmonizing, the judges find potential in Preston and advance him to the next round, but unfortunately cut Jon Wayne from the competition.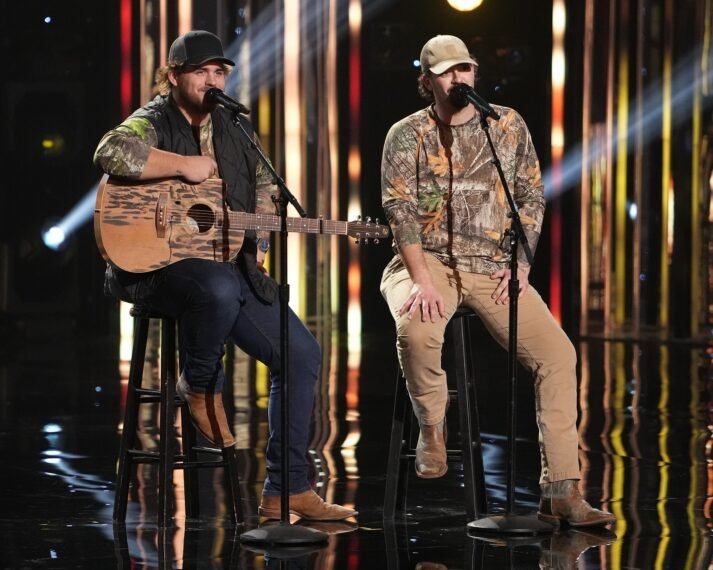 Iam Tongi and Oliver Steele
Iam Tongi and Oliver Steele's performance of "Save Your Tears" was an emotional moment, as Iam's guitar, a gift from his father when he was a child, had broken prior to the performance. Despite the setback, the pair persevered and delivered an impressive rendition of the song, showcasing their resilience and talent. The judges were so moved by the performance that they decided to advance both Iam and Oliver to the next round, demonstrating that true talent and commitment will always shine through.
Adin Boyer, Ayna Elise and Summer Joy
Adin Boyer experienced a meltdown while searching for a duet partner due to his disability, but he bravely shared this moment with the judges. Left on his own, a group had to become a trio with Jayna Elise and Summer Joy welcoming Adin, and they perform "I'm Still Standing." Despite a few critiques, all three advance to the next round, making it a successful performance for the newly-formed trio.
Wé Ani and PJae
Wé Ani and PJAE's performance of Blu Cantrell's "Hit 'Em Up Style" was notable for their commitment to storytelling. However, at times, their intense energy overshadowed their strong vocals. Ani's impressive scatting helped elevate the performance.
Kaya Stewart and Fire
Kaya Stewart and Fire perform "Whataya Want From Me," but Kaya falls ill and can't perform. Fire is left to sing alone, but Katy Perry invites Jayna Elise to join her. The judges are moved by the performance, and Katy advances Fire to the next round.
Who were sent home?
The eliminated contestants from Monday night's episode of American Idol were Carina Deangelo and Jon Wayne Hatfield.
Who among the contestants are starting to impress you? And how about those jaw-dropping moments from tonight's episode, like Stewart's shocking self-elimination? Share your reactions in the comments section now!